Posts for: June, 2014
By Hockaday & Baucom, DDS
June 11, 2014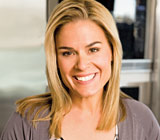 When asked about her dazzling white smile, Cat Cora, the first female iron chef on the hit television series Iron Chef America, freely admits to maintaining the brightness of her smile with professional whitening sessions.
"With what I do, whitening your teeth is like getting your hair done, your nails done and everything else you have to do to be on television," Cat recently told Dear Doctor magazine. However, she does have her limits. "I want my teeth to be white and healthy looking — but not stark white or looking like they could glow in the dark," she said with a laugh.
Cat's perceptions and experiences with tooth whitening may accurately describe Hollywood, but through the power of media, celebrities and their respective fan bases, having attractive white teeth has become a goal for most people. This is because white teeth are subconsciously associated with youth and virility.
Here in the dental office, we can use professional-strength "power bleaching" to whiten teeth several shades in a single visit. To prevent irritation to the area surrounding the teeth being treated, we isolate the gums and skin of the mouth with a protective gel or a rubber barrier known as a dental dam. After the whitening solution is placed on the teeth, the process may be supplemented by heat or a light source to activate or enhance peroxide release.
For bleaching teeth at home, our office can make custom-fitted bleaching trays that you fill with a gel form of carbamide peroxide. Sometimes this whitening gel can cause a temporary tooth sensitivity to hot and cold, but this normally lasts for no more than four days after you stop bleaching your teeth.
To learn more about tooth whitening, you can continue reading the Dear Doctor magazine article "Teeth Whitening." Or you can contact us today to schedule an appointment so that we can conduct a thorough examination and discuss what treatment options will be best for you. And to read the entire interview with Cat Cora, please see the article "Cat Cora."
By Hockaday & Baucom, DDS
June 04, 2014
Sure, we all lead busy lives. We can barely find time to make meals or do the laundry after a long day of work!
We understand the day-to-day stress; however, that doesn't mean that you should neglect your health. In fact, having good health means that you are better able to enjoy your busy life. So why put it on the backburner? This goes for your smile as well. We are going to give you the scoop on why you should be visiting your family dentist regularly.
1. Prevention is Key
You should be seeing your Charlotte family dentist every six months for regular cleanings and X-rays. Why, you might ask? The more we can monitor changes in your mouth the better we can pinpoint issues and potential problems before they become serious. Being proactive means fewer issues down the road.
2. Less Costly
Ok, so it might seem expensive to visit the dentist twice a year, but think of it this way: Would you rather pay for two regular appointments or end up spending thousands of dollars and countless hours trying to fix your teeth in the future? Visiting your dentist in Charlotte, NC regularly means that your wallet doesn't take a hit.
3. We Clean Like You Can't
We have state-of-the-art technology and a professional staff, which means that we can really get in there and clean in ways that you can't. You might have a great toothbrush at home or even swear you floss everyday, but we have the tools to give you a real, deep-down cleaning that your teeth need every six months to look and feel their best.
4. Untreated Infections Can Spread
If you do have an infection in your mouth (e.g. gum disease) that is left untreated it can eventually spread to other parts of your body, which means more doctors visits and potentially more serious complications.
So, turn to our family dentistry in Charlotte to take care of all your dental cleanings and concerns. Your health will thank you!